Staff News: Senior Case Manager Impresses at the 22nd International HIV Symposium in Bangkok.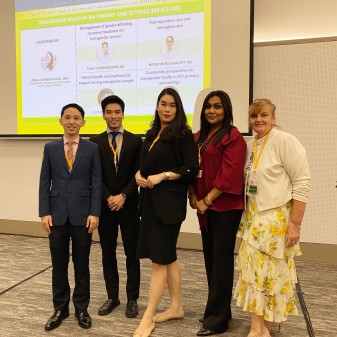 Who are you? Liz Ceissman. I'm the senior case manager for the NSW Gender Centre. I oversee all aspects of the case work that we do. Including the GC's regional and remote case work and our trans and gender diverse family casework across NSW. We're the peak NSW trans and gender diverse organisation, our services impact on HIV reduction and I was invited to speak at one of the most valuable HIV Symposiums in the world for the trans community!
Where'd you go? From 15 to 17 January I went to the 22nd Bangkok International Symposium on HIV Medicine 2020. I joined an expert faculty of speakers from Thailand, wider Asia, Australia, Europe and USA to present a comprehensive review of current HIV management. There were world class international and local speakers presenting plenary sessions and facilitating interactive workshops too.
What was the HIV Symposium focusing on this year? The message from the Chair of the Symposium was to provide health care workers and members of the HIV-infected and affected community from all over the world with a comprehensive review of the management of HIV infection and opportunistic infections, efforts to improve access to therapy as well as the latest updates on research into HIV treatments and vaccines.
The symposium also aimed to stimulate debate through a series of panel discussions on issues such as access to care and the cost of anti-retrovirals in developing countries. In the last 6 years, over 3,000 participants from Asia Pacific, Europe and the America have attended the symposium.
And you were invited to speak too? Yes. I spoke on the early intervention work the Gender Centre does with families and young people to reduce the negative outcomes of trans and gender diverse people being a disadvantaged, discriminated and exclude priority population in NSW. The focus of my presentation was on pathways to reduce the real and often all too common engagement in high risk taking behaviours as a result of social disadvantage.
It was amazing to be part of the conference as transgender health care was given quite a significant amount of attention, and mine was only one of many discussions around the needs of transgender and gender diverse people.
My presentation was well received. What surprised me was how much interest the pediatric team of the teaching hospital in Bangkok showed. The team asked so many questions. In particular how they could adapt many of the family and school engagement practices implemented in Australia to allow for early intervention programs to become a key part of their service delivery in Thailand also.
The other part of my presentation that was well received was the regional sexual health clinic outreach partnership that affords transgender people in the Central West of NSW access to gender specialised health care and support. Many of the doctors and service providers were also interested in the impact in relation to city drift that our model had, as access to health care in remote or rural areas was one of the challenges identified throughout the conference.
What was some of the other highlights for you? I was lucky to meet and present with Nisha Ayub who has been a tireless advocate for the rights of transgender people in Malaysia. She co-founded Seed, the country's first-ever trans-led organisation, and created 'T-Home', which addresses the issue of homelessness for older trans women who are left without family support. She was awarded the US International Women of Courage award in 2016 for her work and was included in the BBC's list of the 100 most influential women of 2019.
I also presented with Rena Janamnuaysook, a transgender woman and human rights advocate from Bangkok, Thailand. Rena works as a program manager for transgender health at the Thai Red Cross AIDS Research Centre, where she established the Tangerine Community Health Clinic, the first transgender-led sexual health and well-being clinic for transgender people in the region.
In talking with Nisha and Rena about trans issues in Malaysia, Thailand and Australia they were amazed at the legal rights and protections of trans people in Australia. In turn it was really clear to me just how far we in Australia have to go to be as community—focused and inclusive of trans people as in Malaysia and Thailand (even though it's illegal to be transgender in Malaysia). After lots of sharing we reached the conclusion that if we merged the community acceptance and understanding around transgender people in the Thai community with some of the better laws of protection available in Australia we would come closer to reaching an ideal for safety for transgender and gender diverse people.