Tuesday, 14 November 2023
A Call for Justice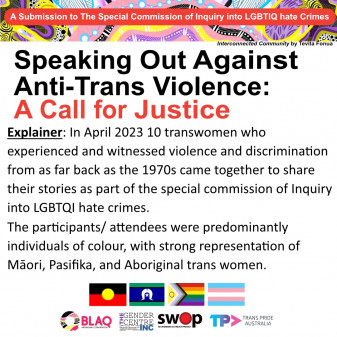 Interconnected Communities by Tevita Fonua @tevita_411 Image ID: a graphic tile featuring artwork and a series of text, as well as the Aboriginal Flag, the Torres Strait Islander Flag, the Inclusive Pride Flag, and Trans Pride Flag. There are also logos representing these organisations: BlaQ Aboriginal Corporation, The Gender Centre, Twenty10, ACON NSW, SWOP, Trans Pride Australia, and The Inner West Council.
The artwork is of a candle with a flame in Trans and Non-binary pride colours (pink, blue, white, purple, yellow), and also an Aboriginal style artwork in the same colours. the text on the image reads:
In April 2023 10 transwomen who experienced and witnessed violence and discrimination from as far back as the 1970s came together to share their stories as part of the special commission of Inquiry into LGBTQI hate crimes
The participants/ attendees were predominantly individuals of colour, with strong representation of Māori, Pasifika, and Aboriginal trans women.
Two dominant themes around hate crimes against trans people emerged.
One: police interactions with trans people were the central discussion point around hate crimes.
Two: the past and present cannot be separated.
Most Trans people living in this country do not distinguish between the period 1970-2010 and the period up to now.
Trans people generally distrust police and other criminal legal institutions because of the long history of involvement in, perpetration of, and cover-up of hate crimes. There have been calls to abolish the police and to channel police funding into preventative and rehabilitate services instead. As a contribution to this, participating women devised a list of 17 recommendations.
1. The Police Association of NSW should reach out to organisations such as the Gender Centre and SWOP and endorse legal reforms that support trans rights around self-identification
2. Greater transparency and expansion of the GLLO (Gay and Lesbian Liaison Officers) program
3. Mandatory contact with a trans-focused GLLO or paid peer representative whenever a trans person is involved in a police matter
4. Require trans person to be referred to by their affirmed name and pronouns in all aspects of legal and police matters and for the Computerised Operational Police System [COPS) to reflect this.
5. Strengthen the power and outreach of a peak body of trans representatives who regularly review and make representations about the NSW criminal legal system, including police, courts and prisons
6. Expand trans inclusion training at all levels of NSW Police and embed it within the Police Academy
7. Empower the Law Enforcement Conduct Commission (LECC) to compile data about police dealing with hate crimes, and fund LECC to investigate allegations of police abuse, harassment or perpetration of hate crimes
8. Implement all outstanding recommendations of the Royal Commission into Aboriginal Deaths in Custody
9. Expungement of prior convictions for sex work and sex work-adjacent convictions. Full decriminalisation of the sex industry and adding 'sex work' and 'sex worker' as protected attributes under the Anti-Discrimination Act
10. Reform prison guidelines around trans people to affirm their gender identities
11. Greater funding and expansion of trans-specific legal services
12. Make Victim of Crime Compensation more accessible and remove the statute of limitations for trans people victimised by hate crimes, including in prisons
13. Strengthen provisions of the Anti-Discrimination Act and update the Births, Deaths and Marriages Registration Act to facilitate self-identification
14. NSW Government to provide visible support and funding for affirming models of health care, as well as lobbying for Medicare to cover gender affirmation surgeries
15. Responsible journalistic coverage of trans people and issues
16. Greater access to counselling services for trans people across NSW, along with services specifically tailored to people over 55 years old
17. Expand hate crimes inquiries to the present day and across all state and territory jurisdictions