TRANSTOPIA YOUTH
Dear Gender Centre Community,
Due to the increase in transmission of novel coronavirus COVID-19 in NSW, the Gender Centre has temporarily cancelled all its group meetings till further notice .
Staff at the Gender Centre understand how important our social groups are for the health and wellbeing of the community. We apologise for the inconvenience and are hoping that things will be back to normal soon. In the mean time stay safe, and please call us on 9519 7599 if you have any queries, concerns or generally feel you need to speak to someone.
Yours sincerely,
Phinn Borg
Are You Transgender? ... Gender Questioning? ... Gender Queer?
"Transtopia" is a monthly social group for transgender and gender questioning teens between the ages of 14 to 19.
Transtopia is a safe place for teens to hang out and be themselves, to form friendships with people like them, and people who "get it".
Transtopia is not a therapy group, however if you would like some further support or therapy you can speak to Imogen (the group facilitator) who can link you in with services at The Gender Centre, such as our counsellor psychologists or our case work team .
Transtopia runs on the first Wednesday of each month from 5pm to 7pm at The Gender Centre. The group is an open group, and bookings are NOT required
Snacks are provided, as well as music, art supplies and comfortable couches and bean bags. Name tags are also available for you to put your preferred name and pronouns. So feel free to drop by any time between 5pm and 7pm and meet some new friendly faces. If you are under 16 we ask that you fill out the following parental consent form ------------------ and hand it to the staff member when you arrive.
Please be advised that Transtopia is a group for young transgender, gender diverse and gender questioning youth only, family members and non-transgender friends are not encouraged to attend.Transtopia aims to provide a safe space for young transpeople to connect with others, enjoy activities as well as talk about things impacting on their life in a safe and non- judgmental space
How Much: FREE
Do I Need To Book: No (call or email Imogen groups@gendercentre.org.au on (02) 9519 7599) for more information

Who runs the group: It is run by Imogen, one of the centre's case worker
What age must I be? : The group is for ages 14 - 19, if you are under 16 we ask that you complete a consent form & email it to groups@gendercentre.org.au
What is the structure of this group? : This is a relaxed group with the prime objective of creating a safe space, friendships, information and fun workshops!
Do I "HAVE" to talk? : Nobody HAS to talk at group, everybody moves at their own pace and nobody will be put on the spot to talk.
Can I bring a friend or parent? : By all means if you have a friend who identifies as trans or gender questioning and is between the age of 14 and 19 we encourage you to bring them along. However for the safety of the group we do not allow parents or non-trans people to come along.
Can I wear my preferred clothing? : We encourage you to wear whatever makes you comfortable, remember this is a group with people going through very similar experiences.
Who can I contact if I have any questions? : You can email Imogen on groups@gendercentre.org.au
Transtopia: A place to be yourself
Under 16 DOWNLOAD THE CONSENT FORM

DOWNLOAD YOUTH BOOKLET
We will be starting a new Transtopia youth group in Orange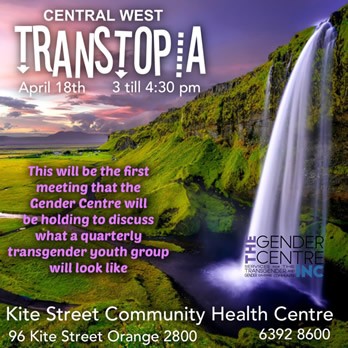 Group dates for 2020
Wednesday:
February 5, March 4, April 1, May 6, June 3, July 1, August 5, September 2, October 7, November 4, last group for the year December 2 .
What time does the group meet
The group runs from 5PM till 7PM, it is completely fine to arrive late or to leave early.
Where do we meet
Transtopia meets at the Gender Centre 41 to 43 Parramatta Rd Annandale
When
Transtopia meets on the first Wednesday of each month
Contact
Telephone: +612 9519 7599