PARTNERS ON-LINE SUPPORT GROUP
The Partners Support Group is for people whose partners are questioning gender,neutral, non binary, and or gender queer.
The aim of this support group is to provide participants with a network of support in a safe on-line enviroment in which participants can communicate with one another constructively.
Each session's objectives will be to share resources and assist participants deepen their understanding of their situation and themselves. The focus will be on the participants not their partners.
This is an on-line group facilitated by a qualified counsellor,the group meets via Zoom. Prospective participants will need to complet an in-take form on what participants hope to gain from the group and what pressing concerns or questions you might have once the form has been completed you will need to email the form to you will then be supplied with a link to the zoom group.

DOWNLOAD PARTNERS ONLINE FORM
Email your online form to
Where .....On Line
When ....The group has started
How much......its free
Do I need to book.........yes as you will need to fill out the group form and be given your Zoom link
Contact ...............The Gender Centre on 9569-2366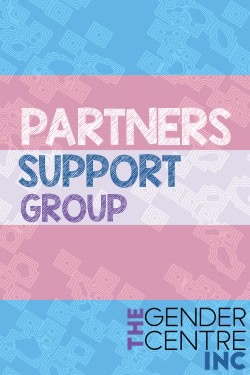 RSVP PHONE
+612 9519 759
RSVP EMAIL
This email address is being protected from spambots. You need JavaScript enabled to view it.