Non-Binary is a group for people who identify anywhere within the gender variant spectrum and are over 18. The purpose of this group is to provide a warm, friendly and supportive space where topics relevant to gender identity can be discussed freely and questions asked.
The group is run at the Gender Centre between the hours of 6pm and 8pm. The group is run by Ellis.
PLEASE NOTE:
Due to the stay-at-home orders extension, the Non-Binary Support Group will be held online next Monday, 2nd August 2021.
The group will be held from 6pm to 7:30pm.
This group is limited to people over the age of 18.
The session will be hosted on Zoom with Ellis.
You will need to read and consent to the Rules of Engagement to join the group.
If you are interested in attending, please contact Ellis via email with the following:
1. In the SUBJECT line, please write Nonbinary Group Zoom Event.
2. Ellis will then send you the rules of engagement for you to go through.
3. Once you have done this, please reply to the email with confirmation that:
a. You would like
to attend the online session
b. You have read and understood the rules of engagement.
The link to the Zoom meeting will be provided immediately before the session to each registered person via email.
Connection works best if you download Zoom prior to the session. However, you can also connect through any internet browser.
If you have any questions, you are welcome to email Ellis at the above email address or you can call the Gender Centre (9519 7599)
Thank you
Ellis
The dates Non-Binary will be running in 2021 are as follows;
MONDAY APRIL 5TH (No Group Public Holiday)
MONDAY MAY 3RD
MONDAY JUNE 7TH
MONDAY JULY 5TH
MONDAY AUGUST 2ND
MONDAY SEPTEMBER 6TH
MONDAY OCTOBER 4TH
MONDAY NOVEMBER 1ST
MONDAY DECEMBER 6TH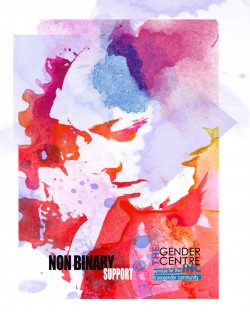 RSVP PHONE
+612 9519 7599