Parents of Trans & Gender Diverse Youth
PLEASE NOTE: OUR MAY 16TH 2022 MEETING HAS BEEN CANCELLED. LIZ HAS TESTED POSITIVE TO COVID.
Your child is questioning their gender. Maybe you're feeling shocked and overwhelmed by the news or fearful for your child's future. Maybe you have no idea on what you're feeling. There must be a thousand different questions running through you're head. The Gender Centre runs a monthly parents of transgender youth support group with a trained facilitator, guest speakers and lots of parents who are there to help you, and answer some of these questions. Its all free - you don't need to book just come along.
PARENTS OF TRANS AND GENDER QUESTIONING YOUTH who are less than 5 years into their journey are invited to come and be part of these support nights.
For regional parents and for parents who are 5 years + in supporting their children please check out our parent's distance group.
The parents support group meets on the third Monday of each month except January. The group is run at the Gender Centre: 41-43 Parramatta Rd Annandale.
6-8:30pm.
The group is run by Liz. Doors open at 6pm.
Dates for 2022:
MONDAY MAY 16TH

Cancelled due to COVID
MONDAY JUNE 20TH
MONDAY JULY 18TH
MONDAY AUGUST 15TH
MONDAY SEPTEMBER 19TH
MONDAY OCTOBER 17TH
MONDAY NOVEMBER 12TH
MONDAY DECEMBER 12TH
First Steps a resource of shared stories and information from parents and caregivers of transgender youth
First Steps "shared stories from parents and caregivers
When my daughter was growing up it never crossed my mind that she had any issues with her gender. I have no stories to share of her insisting she was a boy, no struggles to persuade her to wear girls' clothing, no anecdotes about how she was a tomboy or played on the boys soccer team. I have nothing like that to share. My stories are of a beautiful and creative little girl who loved her princess dolls, her My Little Ponies, her coloured hair clips, bows and fairy wings.
It was never on my radar that my daughter could be transgender or that one day when she was in her early twenties my life would be turned completely upside down. I cannot remember clearly how my daughter told me she was a boy, or whether she used the word transgender. The panic and fear that I felt at that moment, thinking there must be something terribly wrong with my child, has wiped some of my memories of that day. But I will never forget the anguish I saw in my child's face. I knew whatever she was struggling with, was massive.
I didn't know what I should do and I turned to a diagnostic manual for information. At that time it was the DSM IV. I looked up gender and I came away worried that my daughter could be suffering a serious disorder and be mentally ill. I saw a psychologist specialising in gender issues and I told her about my daughter and how she had always behaved and dressed like a girl. But I also told her about the distress my child felt during puberty, her anxiety and discomfort with her female anatomy and of her breast binding. The psychologist said she believed my child could be transgender.
For a long time I fell into a deep abyss. I worried about my child's future, how difficult her life would be and how badly she would be treated. How could I ever keep her safe? What had I done to cause this? How had I not known? I fluctuated between denial, fear, depression and guilt. In those early troubled years it was hard for me to see that I could get to the place I am now, or to see that I would gain so much from the journey. I have a transgender son and I am enormously proud of him. I feel positive about his future and all of his potential. He is interesting, inspiring and courageous and I fully embrace him as my son.
The reason I am sharing my story is because I want you to know that it does get better! You will come to a place of acceptance. You will get used to the new name and pronouns. You will feel proud of your child and positive about the future. You will feel confident that your child will find happiness and love. You will learn that your transgender child is a natural part of human diversity.
There are many, many parents with transgender children. You are not alone.
Tips for parents
When your older child tells you she or he is transgender he or she has probably agonised over these feelings for years.... believe them.
Use your child's preferred name and pronouns
. In the beginning you may find this very difficult but continued resistance could damage your relationship with your child.
Show support and a willingness to understand her or his experience. Whatever your child's age he or she wants and needs your acceptance.
Connect with a parents' support group.
When you need support or comfort or reassurance about your child's future, don't look for that from your child.
Not all transgender people are the same.
Not everyone transitions, not everyone takes hormones and not everyone has surgery. Some transgender people pass in their affirmed gender and some do not and some don't feel they need to try. There is no right or wrong way to be transgender.
If your child is transgender that does not mean there is something "wrong" with him or her. Learn all you can and be an advocate and champion for your child.
.
What can you do for your child
Reassure your child
Communicate that you love and support your child no matter what. Encourage your child to be the person he or she is.
Help your child connect to age-appropriate trans-positive places and people
If your child is seeking a connection with other transgender or gender diverse people, contact appropriate services for social and support groups.
Adapt to pronoun and name changes
Practise and apologise when you make a mistake. It all gets easier with time and shows respect for your child..
Be an advocate
Be a proud parent. Do not approach your child's diversity with a sense of shame.
What can you do for yourself
Remember you are not alone.
Get support.
Allow yourself to feel sad but do not let it overwhelm you so you can't help your child.
If your feelings are overwhelming you, seek professional help.
Be kind to yourself and recognise that you will make mistakes.
Do not beat yourself up.
You may need to unlearn and unpack a number of preconceived ideas and beliefs – it helps to talk to people.
Group dates for 2020
The parents support group meets on the second Monday of each month
February 11 • March 11 • April 8 • May 13 • June 11 • July 8 • August 12 • September 9 • October 14 • November 11 • December 9
Where do we meet
At the Gender Centre 41 to 43 Parramatta Road Annandale
What time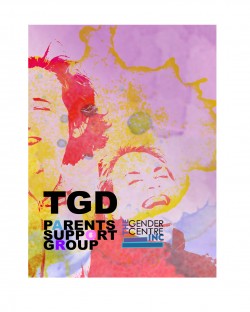 RSVP PHONE
+612 9569-2366