PLEASE NOTE: FtoM Connect has moved online AND changed times. Our next digital meeting will be Friday 10 September from 4pm - 5:30pm. Attendance will be via registratration, so please RSVP Candy at .
FTM Connect is a group for people who identify as transgender male or questioning and are aged from 17 and up. The purpose of this group is to provide a warm, friendly and supportive space where topics relevant to gender identity can be discussed freely and questions asked. Guest speakers are invited to attend on occasion, every month the conversation topics vary and we welcome questions or topics that you would like to see raised.
The group is run at the Gender Centre between the hours of 6pm and 7:30pm
The group is run by Candy.
**To attend this group you will need to email your RSVP to prior to the night of group. Due to covid restrictions we have a limited capacity of 30 people and will not be admitting anyone that has not RSVP'd**
The dates that F.T.M. Connect will be running in 2021 are as follows;
FRIDAY MARCH 5TH
FRIDAY APRIL 16TH (in Lieu of Good Friday)
FRIDAY MAY 14TH
FRIDAY JUNE 4TH
FRIDAY JULY 2ND
FRIDAY AUGUST 6TH
FRIDAY SEPTEMBER TBA
FRIDAY OCTOBER TBA
FRIDAY NOVEMBER TBA
FRIDAY DECEMBER TBA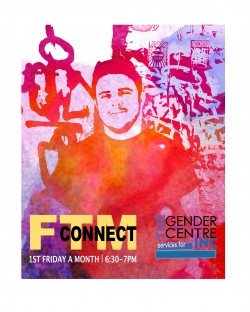 RSVP PHONE
+612 9569 2366
RSVP EMAIL
This email address is being protected from spambots. You need JavaScript enabled to view it.