TRANS STORIES
THE GENDER CENTRE INC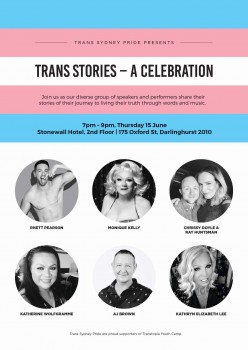 Thurs 15th June, 7pm
Stonewall Hotel, second floor.
Guest speakers
Monique Kelly, Katherine Wolfgramme, Rhett Pearson, Kathryn Elizabeth Lee, Chrissy Doyle, Ray Huntsman and AJ Brown.
Hosted by Peta Friend & Samson Naylor.
$10 from every ticket will benefit Transtopia Youth Camp run by the Gender Centre.
A Trans Sydney Pride Presentation for the Sydney Pride Festival.