FREE NUTRITIONAL CONSULTS
FREE NUTRITIONAL CONSULTS
THE GENDER CENTRE INC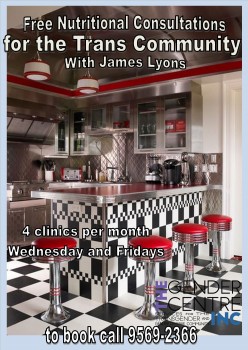 James Lyons is a clinical nutritionist who specialises in transgender health, and complementary care in HIV/AIDS & hepatitis C. James recived a Bachelor of Health Science in Nutritional Medicine from the Southern School of Natural Therapies in Melbourne and now practices evidence-based nutrition in Sydney.James is committed to advancing the field of nutrition to better address the needs of marginalised prople of all kinds, and is passionate about educating fellow healthcare practitioners on cultural compentency in treating trans and gender diverse clients.
Drawing on his lived experiences, James has created a clinical space for trans and gender diverse clients at the Gender Centre to access nutritional medicine with a practitioner who shares common language and cultural understanding.
Nutritional medicine is a perfect complement to medical model transitioning. It can support the body during HRT, promote desired changes, reduce side effects of medications, improve healing times and outcomes of surgeries, as well as strengthen the immune system, the nurvous system and general well-being.
Evidence based nutritional medicine may also help in the treatment of:
HIV/AIDS
Hepatitis C
Gut conditions, IBS, IBD, coeliac disease, reflux ect
Acne, eczema, psoriasis
Depression, anxiety and fatigue
Weight gain, loss maintenance
Diabetes, cardiovascular disease, high cholesterol
Fertility, pregnancy, and post-natal care
Childhood and adolescent nutritional requirements
General wellness
Nutritional medical practitioners recognise underlying mechanisms involved in disease, states and explain how to treat or prevent them with dietary changes, lifestyle adjustment, and nutritional supplementation.
As a holistic practitioner James collaborates with his clients to create treatment plans together, where all aspects of the client's health, lifestyle, and goals are taken into consideration. During a consultation, Jame's works with his clients to explore their health history, current conditions, lifstyles habits and physical signes of nutrient insufficiencies. Evidence-based nutritional medicine draws on well-researched use of food and nutritional supplements to support and promote the body's natural healing processes
James holds his clinics on the second Friday of the month at the Gender Centre to book an appointment email James at nutritionist@gendercentre.org.au