Vale Roberta Perkins
(1940-2018)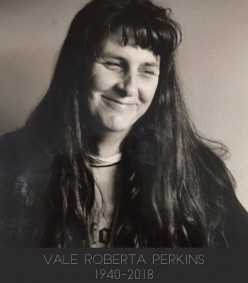 Roberta Perkins (1940-2018)
By Katherine Cummings
Roberta was a trail blazer for Australian transgender people. Having completed an honours degree with her major study a survey of sex workers in Sydney, she later published her work as a book entitled The Drag Queen Scene. This was read by Frank Walker, the then Minister of Youth and Community Services, who asked Roberta to come for an interview.
Walker was disturbed by the semi-nomadic lives of young trans sex workers who were being raped, assaulted, harassed and evicted from their homes, unable to use either male or female refuges. Frank's words were, "Roberta, we have got to find them a place where they can lay their heads at night."
Roberta made a submission to the Minister and he responded by approving a grant of $80,000 to set up the first Gender Centre in Morgan Street, Petersham in October 1983.
Frank Walker officially opened the refuge as Tiresias House later that year. Six years on it was renamed the Gender Centre.
Roberta left the Centre in 1985 and wrote several books, including Working Girls: prostitutes, their life and social control (Australian studies in law, crime and justice), Call Girls: private sex workers in Australia (with Frances Lovejoy) and Being a Prostitute: prostitute women and prostitute men (with Garry Bennett).
From Roberta's guiding hand the Gender Centre has grown to become the peak transgender health organisation in NSW. There is no way to over-emphasise the difference Roberta Perkins made to the lives of transgender people in Sydney, NSW and Australia. Roberta passed away on Tuesday 26 June.
Her funeral will be held this Friday 29 June at noon in Mona Vale (cnr of Barrenoey Rd and Darlkey St, Mona Vale at the Ann Wilson Funeral Parlour. All are welcome to come.