Transgender Thai Kickboxer Fighting for Sex Change
8 January 2016 - A.B.C.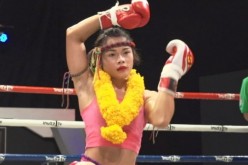 Bangkok THAILAND:: For Thai fighter Somros Polchareon, there are a few extra steps in preparing for a kickboxing bout. Only after mascara is applied and eyelashes are curled does the 19-year-old grab a handbag and walk outside to have her hands wrapped in bandages and her muscular body rubbed down with oil. Rose, as she is known to all, is one of a handful of transgender fighters at the top levels of Thailand's national sport, Muay Thai, a form of kickboxing that allows the use of elbows and knees as well as fists and feet.