Slipping Through The Cracks
9th February 2016 - Gender Centre Media Release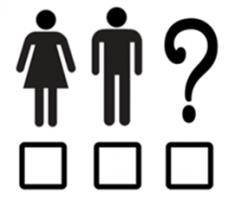 2016 is an Australian census year and finally it seems as if the transgender and gender non-binary community as well as intersex Australians will be included in the count. Or will they?
Australian Government data collectors are trying to find a way to include a third category but struggling to move beyond the female/male binary. Their solution? A third 'indeterminate', 'unspecified' or 'X' category, and the exclusion of transgender children.
Not surprisingly transgender, gender non-binary and intersex people do not see themselves as indeterminate or unspecified and may not take part. But, without a proper accounting, the resources and recognition to help these vulnerable communities will be as far away as ever.
The Gender Centre and Inner City Legal Centre invite you to be part of a Mardi Gras Queer Thinking panel discussion on Monday 29 February at the Eternity Playhouse, Darlinghurst. Cost: $5. Please book in advance to reserve your ticket: