Parents Group Survey
The Gender Centre Inc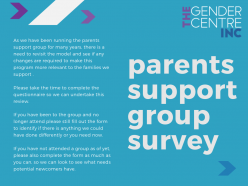 As we have been running the parents support group for many years, there is a need to revisit the model and see if any changes are required to make this program more relevant to the families we support . Please take the time to complete the questionnaire so we can undertake this review.
If you have been to the group and no longer attend, please still fill out the form to identify if there is anything we could have done differently or you need now.
If you have not attended a group as of yet, please also complete the form as much as you can, so we can look to see what needs potential newcomers have.