Letter writing workshop
The Gender Centre Inc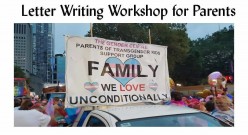 To all parents who have been affected by the changes of service delivery to children and young people with gender issues by Westmead children hospital:
The Gender Centre will be conducting a letter writing workshop to members of Government to gain help, and support for the re-establishment of appropriate services to youth in a multi-disciplinary and culturally appropriate and relevant manner.
The workshop will be held on Thursday the 3rd August at the Gender Centre: 41-43 Parramatta Rd, Annandale.
The workshop will start at 6pm and finish at 7.30pm.
For those parents in regional rural and remote NSW, do not panic, we understand that getting to a workshop in Sydney is not feasible. We will be making available all of the worksheets and information on line after the workshop for everyone to utilise.