Health Care Survey
The Gender Centre Inc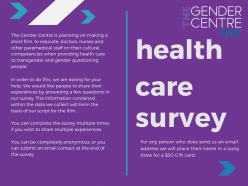 The Gender Centre is planning on making a short film to educate doctors, nurses and other paramedical staff on their cultural competencies when providing health care to transgender and gender questioning people.
In order to do this we are asking for your help. We would like people to share their experiences by answering a few questions in our survey. The information contained within the data we collect will form the basis of our script for the film You can be completely anonymous or you can attach an email contact at the end of the survey. You can also complete the survey a number of times if you wish to share multiple experiences.
For any person who does send us an email address we will place their name in a lucky draw for a $50 Gift card.
This survey is now closed.