Day of Remembrance 2016
The Gender Centre Inc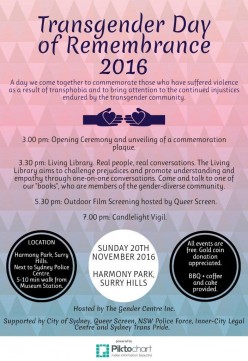 A day we come together to commemorate those who have suffered violence as a result of transphobia and to bring attention to the continued injustices endured by the transgender community.
3.00pm: Opening Ceremony and unveiling of a commemoration plaque.
3.30pm: Living Library. Real people, real conversations. The Living Library aims to challenge prejudices and promote understanding and empathy through one-on-one conversations. Come and talk to one of our "books", who are members of the gender-diverse community.
5.30pm: Outdoor Film Screening hosted by Queer Screen.
7.00pm: Candlelight Vigil.
LOCATION:
Harmony Park, Surry Hills
Next to Sydney Police Centre
5-10min walk from Museum Station
DATE:
Sunday 20th November, 2016
COST:
All events are free
Gold Coin Donation appreciated
FOOD PROVIDED:
BBQ
Coffee & Cake
HOSTED BY:
The Gender Centre Inc
SUPPORTED BY:
The City of Sydney
Queer Screen
NSW Police Force
Inner-City Legal Centre
Sydney Trans Pride