Central West Support
The Gender Centre Inc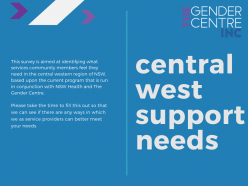 This survey is aimed at identifying what services community members feel they need in the central western region of NSW, based upon the current program that is run in conjunction with NSW Health and the Gender centre.
Please take the time to fill this out so that we can see if there are any ways in which we as service providers can better meet your needs.
This survey is now closed.