AURORA DINNER RAISES $5,000
STAR OBSERVER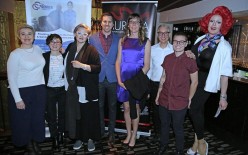 A CHARITY dinner has raised much needed funds for a new project at The Gender Centre, aimed at changing how trans people are portrayed in the media.
The fundraiser was hosted by the Aurora Group, a charity focused on raising money for LGBTI organisations.
This was the second event in their Appetite Dinner Series and it proved to be just as successful as their first outing, raising over $5,000 and exceeding target goal expectations.
"Our dinner at Claire's was a great success and a wonderful example of what can be achieved through targeted fundraising," Alison King, Aurora's Chair, said.
"Through the generosity of those who attended, we effectively generated one of our small grants for the Gender Centre on the spot, as well as providing for meaningful connection between our beneficiaries and supporters and an opportunity for constructive dialogue about the needs of our community."
Tickets for the August 31 event had sold out at $150 a piece, offering diners a three course meal at Claire's Kitchen at le Salon for a worthy cause.
Eloise Brook from The Gender Centre spoke about the the fundraising initiative when the event was announced in July.
"We do a lot of really important work in the trans community and the Aurora Group helps to make that possible," Brook said.
"The feeling of those who work at The Gender Centre is that when Aurora gets involved, there is an incredibly positive effect on our community."
The Aurora Group has indicated that the Appetite Dinner Series is something they will continue to pursue in the future.
Written by Dan Clarke - Sydney Star Observer