ALEXIS ARQUETTE DIES
THE SYDNEY MORNING HERALD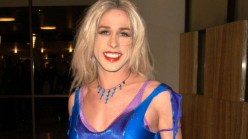 The transgender actress Alexis Arquette, best known for roles in the films The Wedding Singer and the television series Xena: Warrior Princess, has died, aged 47. No cause of death has yet been announced by Arquette's family.
The 47-year-old Los Angeles-born actress and singer died after what US media are describing as a "lengthy illness", surrounded by her siblings, sisters Patricia and Rosanna, and brothers Richmond and David.
Arquette's brother Richmond confirmed her death in a social media post.
"Our brother Robert, who became our brother Alexis, who became our sister Alexis, who became our brother Alexis, passed this morning September 11, at 12:32 am," he wrote.
"He was surrounded by all of his brothers and sisters, one of his nieces and several other loved ones," he added.
"As per his wishes, we cheered at the moment that he transitioned to another dimension."
Richmond said that in Arquette's final moments, David Bowie'sStarman was playing.